News
Pennsylvania NHD Mini-Conference

Mini – Conference:
The Move to High Resolution NHD
Date: September (Wednesday) 8th – (Thursday) 9th
Location: 3240 Schoolhouse Rd
Middletown, PA 17057

Registration is free!
Click Here to download the registration form.
---
Chesapeake Bay Region Views Collaborate on ChesapeakeView
The AmericaView programs in the Chesapeake Bay region have joined forces to develop a new regional View known as
ChesapeakeView
. ChesapeakeView is a collaborative effort of
AmericaView
,
PennsylvaniaView
,
VirginiaView
,
West VirginiaView
,
New YorkView
, and
MarylandView
. ChesapeakeView was unveiled at the annual AmericaView winter business meeting in Washington, DC in March. ChesapeakeView is the first regional AmericaView initiative. The purpose of the ChesapeakeView project is to facilitate access to remotely sensed data related to the Chesapeake Bay region. This effort seeks to highlight the data resources of the AmericaView partners in the Chesapeake Bay region.
---
Exploration Day 2010
2010 Exploration Day at Penn State will be held Saturday April 17th and the Penn State Bryce Jordan Center. Formerly known as Space Day, Exploration Day is a celebration of the spirit and opportunity of exploration and science at Penn State featuring interactive activities, workshops for children, multimedia presentations, and planetarium shows. Collaborations with Bio Days, the Society of Physics Students, and other student groups emphasize the importance of a strong science, technology, engineering, and mathematics education (STEM). For more information, please go to the Exploration Day website.
---
Find Pennsylvania Imagery & LIDAR through the PASDA Imagery Navigator
The
Pennsylvania Imagery Navigator
was developed to provide easier access to imagery and raster data such as topographic maps.The Navigator still maintains all the functions of the Imagery Viewer and Download Utility. Note: To access the previous Imagery Viewer and Download Utility, click
here
. However, the enhanced Navigator allows users to print the map image, identify and download multiple tiles for an area of interest, and new options for specifying area of interest.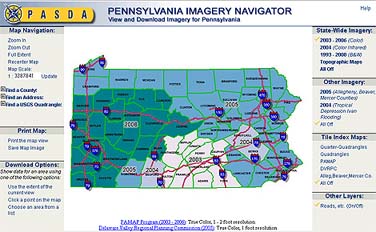 The enhanced Imagery Navigator will increase ease of access to all imagery and raster data from a diversity of providers through a single interface. The data available include imagery and raster data from the PAMAP program, the Delaware Valley Regional Planning Commission, the USDA, and the USGS, as well as specialized imagery from PEMA and the NGA.